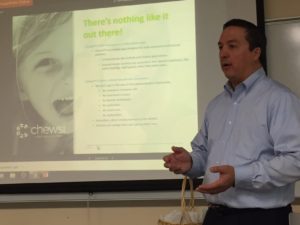 When we booked Dennis Martell to speak to our group, we had no idea he was going to present a whole new product that wasn't dental insurance at all!
At first, it was hard to wrap our heads around the fact that Chewsi™ is NOT insurance; it's an app that offers discounted dental services provided by dentists who sign up to participate.
There are no claims reviews, no limitations, no deductibles, no annual maximums, no paperwork and no hassles. Patients can use Chewsi™ to pay for all procedures — including cosmetic.  Chewsi™ is an app that potential patients (or uninsured current patients) download to their smartphone.  Using the app, patients can see if their dentist is a Chewsi™ dentist or search for a new Chewsi™ dentist near them. They can also view prices to see how much they would typically pay for a dental service in their area using Chewsi™.

According to  www.Chewsi™dental.com, "Chewsi™ is the new dental solution that's revolutionizing how oral health care happens. It helps people find the dental services they need from the right dentist at the right price."
Everyone can use Chewsi™. Patients download the Chewsi™ app, sign up with their credit card  information and call the Chewsi™ dentist they've selected to make an appointment.
Chewsi™ states that it makes great oral health care easy and affordable by offering discounts for dental services when patients pay their dentist using the Chewsi™ app at the time of service. No hassles, no paperwork, no administrative reviews of any kind — just the right dental services at the right price.
The Chewsi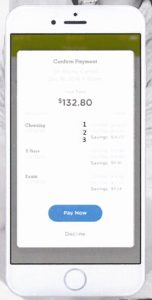 ™ app gives you the flexibility to register multiple payment methods allowing you to take full advantage of credit card, Flexible Spending  (FSA) or Healthcare Savings (HSA) accounts.
Chewsi™ will process the transaction immediately. Funds are deposited into your bank account, typically within two business days.
So, why would a practice want to sign up?  New patients!
Potential patients will know what their fee will be in advance and see how much they have saved at the end of the appointment.  The dental practice enters the codes for the services and Chewsi™ displays the information on the patient's cell phone.  The practice decides whether they want to process the payment before or after treatment; similar to how they would handle any patient paying at the visit.
What about patients who have dental insurance? Chewsi™ works like a wraparound product to help patients afford procedures not covered by their dental insurance. For example, members who reach their maximum and need additional services can use Chewsi™ to find a more affordable rate, rather than postpone treatment.
A dentist that signs up with Chewsi™ does have to sign a contract.  When they sign the contract, they agree to honor the fee schedule for all procedures performed on a Chewsi™ member.  And, by agreeing to become a provider in the Chewsi™ network, they agree to offer all services (routinely offered by the office) listed on the fee schedule.  Dennis said that any service that has an ADA code can be offered, including whitening.  The dentist gets the full fee listed on the fee schedule.
So, how does Chewsi™ make their money?  It's a small percentage added to the dentist fee schedule and charged to the patient at the time of transaction.
DMS members saw both the PROs and the CONs;
PRO – it could bring in lots of new clients, especially as Chewsi™ ramps up its marketing campaigns. And, the practice is paid much quicker than dental insurances traditionally pay. Additionally, patients may now purchase services they might not typically purchase, One member also pointed out that patients may not wait until next year to have treatment completed using next year's benefits.
One CON mentioned was that an insured patient who has run out of benefits or is having a non-covered procedure would normally pay full fee.  Now, they could pay the "discount" fee.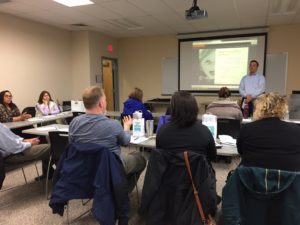 Members also thought that it would be very confusing to patients who might think it was another form of insurance and that the dental office would have to take a lot of time explaining that this is a means of discounting dental services.  One office manager thought that insured patients might think they could use it to discount their portion of an insured procedure but Chewsi™ goes by the ADA code and discounts the full fee of the dental office profile.
Chewsi™ should be available in Rhode Island in mid to late May, early June with Massachusetts close behind.  AAA Northeast has already signed on to be a partner and Chewsi™ is being Altus Dental endorsed. It will integrate with Carestream, Dentrix, Eaglesoft, EasyDental and OpenDental so far with more practice management programs down the road.
Chewsi™ has already solicited many offices in Rhode Island and a few of our members already knew all about it. The members attending the April 21st meeting were split as to whether they thought they would participate or not.
For more information about Chewsi™, visit Chewsi™Dental.com or call 855-624-3974.
*This is a reporting of DMS Ocean State's April 21st meeting and not an endorsement of Chewsi™.